Crop Watch: East (Bedfordshire/Hertfordshire) November – Farmers Weekly – Ben Pledger
Posted on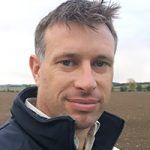 It would be an understatement to say that the weather hasn't been playing ball over the past month.
At time of writing, I have growers who have absolutely nothing drilled, through to a few who have just about planted all of the winter cereals that they had planned to.
Wet conditions are seeing crops drilled into cloddy seed-beds, which won't get rolled before the spring.